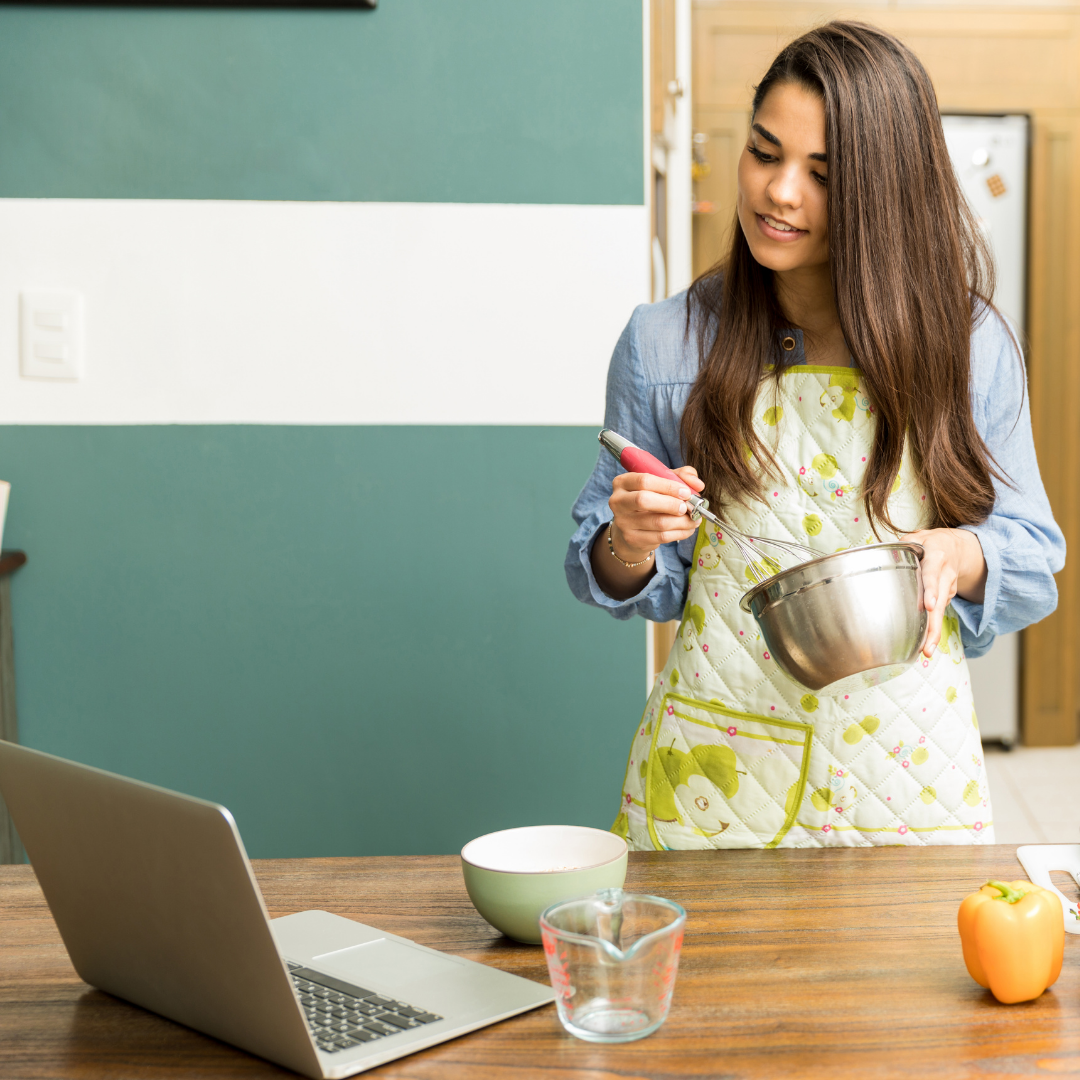 Cooking in an apartment can sometimes be a struggle when counter space is sparse and sinks can be too small to hold all your dishes. Choosing your recipes wisely can alleviate some of that stress. We have put together a list of easy dishes that are perfect to make in any apartment. The recipes include ingredients and the directions needed to make these dishes.
Dinner Recipes
One-Pot Beef Skillet Recipe
Ingredients
1/2 pound ground beef
1 medium onion, chopped
1 cup chopped celery
3/4 cup chopped green pepper
2 teaspoons Worcestershire sauce
1 teaspoon salt, optional
1/2 teaspoon dried basil
1/4 teaspoon pepper
2 cups uncooked medium egg noodles
1 can (16 ounces) kidney beans, rinsed and drained
1 can (14-1/2 ounces) stewed tomatoes
3/4 cup water
1 beef bouillon cube
Directions
In a large saucepan or skillet, cook the beef, onion, celery and green pepper over medium heat until meat is no longer pink and vegetables are crisp-tender; drain. Add the Worcestershire sauce, salt if desired, basil and pepper. Stir in the noodles, beans, tomatoes, water and bouillon.
Bring to a boil. Reduce heat; cover and simmer for 20 minutes or until noodles are tender, stirring occasionally.
Pad Thai Recipe
Ingredients
4 ounces uncooked thick rice noodles
1/2 pound pork tenderloin, cut into thin strips
2 teaspoons canola oil
2 shallots, thinly sliced
1 large egg, lightly beaten
2 garlic cloves, minced
3 cups coleslaw mix
4 green onions, thinly sliced
1/3 cup rice vinegar
1/4 cup sugar
3 tablespoons reduced-sodium soy sauce
2 tablespoons fish sauce or additional reduced-sodium soy sauce
1 tablespoon chili garlic sauce
1 tablespoon lime juice
2 tablespoons chopped salted peanuts
Chopped fresh cilantro leaves, lime wedges and fresh bean sprouts
Directions
Cook noodles according to package directions.
In a large nonstick skillet or wok, stir-fry pork in oil over high heat until lightly browned; remove and set aside. Add shallot to pan and cook until tender, about 1 minute; add garlic and cook for 30 seconds. Make a well in the center of the onion mixture; add egg. Stir-fry for 1-2 minutes or until the egg is completely set.
Add the coleslaw mix, green onions, vinegar, sugar, soy sauce, fish sauce, chili garlic sauce, lime juice and peanuts; heat through. Return pork to the pan and heat through. Drain noodles; toss with pork mixture. Garnish with cilantro, additional peanuts, lime wedges and bean sprouts.
Pizza Pie Recipe
Ingredients
1 pound ground beef
1/2 cup chopped green pepper
1 envelope Italian-style spaghetti sauce mix
1 can (6 ounces) tomato paste
3/4 cup water
1 tube (12 ounces) refrigerated buttermilk biscuits
1/4 cup plus 1 tablespoon grated Parmesan cheese, divided
2 cups (8 ounces) shredded part-skim mozzarella cheese
Directions
In a large skillet, cook and stir beef and pepper over medium heat until meat is no longer pink; drain. Stir in the sauce mix, tomato paste and water; bring to a boil. Reduce heat; simmer for 7-10 minutes or until thickened, stirring occasionally.
Separate biscuits; press onto the bottom and up the sides of a greased 9-in. deep-dish pie plate to form a crust. Sprinkle with 1/4 cup Parmesan cheese; fill with meat mixture.
Sprinkle mozzarella cheese and remaining Parmesan cheese over top. Bake at 400° for 15-18 minutes or until the crust is golden brown and cheese is melted.
Quick and Simple Meatballs Recipe
Ingredients
2 large eggs
1/4 cup water
1 small onion, finely chopped
1-1/3 cups soft bread crumbs
2/3 cup grated Parmesan cheese
2 garlic cloves, minced
2 teaspoons Italian seasoning
1-1/2 teaspoons salt
1/4 teaspoon pepper
2 pounds ground beef
Directions
Preheat oven to 375°. In a large bowl, combine eggs, water, onion, bread crumbs, Parmesan cheese, garlic and seasonings; mix well. Crumble beef over mixture and mix well. Shape into 1-1/2-in. balls. Place meatballs on greased racks in shallow baking pans. Bake, uncovered, until no longer pink, 15-18 minutes.
Freeze option: Freeze cooled meatballs in freezer containers. To use, partially thaw in refrigerator overnight. Heat through in the microwave.
Dessert Recipes
Banana Oatmeal Cookies Recipe
Ingredients
1-1/2 cups all-purpose flour
1 cup sugar
1 teaspoon salt
1/2 teaspoon baking soda
1/2 teaspoon ground cinnamon
1/4 teaspoon ground nutmeg
3/4 cup butter, softened
1 large egg
1 cup mashed ripe bananas (about 2)
1-3/4 cups quick-cooking oats
1 cup semisweet chocolate chips
1/2 cup chopped walnuts
Directions
In a bowl, combine the first six ingredients; beat in butter until mixture resembles coarse crumbs. Add egg, bananas and oats; mix well. Stir in chips and nuts.
Drop by tablespoonfuls onto greased baking sheets. Bake at 375° for 13-15 minutes or until golden brown. Cool on wire racks.
Chocolate Peanut Butter No Bake Cookies Recipe
Ingredients
2 cups sugar
1/2 cup butter, cubed
1/2 cup 2% milk
3 tablespoons baking cocoa
Dash salt
1/2 cup creamy peanut butter
1 teaspoon vanilla extract
3 cups old-fashioned oats
Directions
In a large saucepan, combine the first 5 ingredients. Bring to a boil, stirring constantly. Cook and stir for 3 minutes.
Remove from heat; stir in peanut butter and vanilla until blended. Stir in oats. Drop mixture by tablespoonfuls onto waxed paper-lined baking sheets. Refrigerate until set. Store in airtight containers.
Do you enjoy cooking? What are some of your easy go to recipes?
Learn more about apartment living through our blog!